This is a topic that I am passionate about and I thought now would be the perfect time to write this article. With so much hype surrounding AI these days, it's both mind-blowing and scary. Only a short while ago, we were amazed by the power and capabilities of AI. As time has passed, its boundaries have become much more blurred. Where can it go from here? What are the societal implications of AI? The other factor that I find both exciting and scary is the speed at which technology is moving. Have humans created intelligent beings with potential to outwit and potentially deceive humans? How is that even possible? Regardless of where you stand on this topic, it's fascinating to see.
Wearing my technical director hat now, our business is all about cost and time savings, delivering automation and technology solutions to make it easier for our customers to do business. So, I thought it would be a good place to start by exploring the practical uses for both AI and Machine Learning in business. So, before we get started, let's do a quick re-cap on AI and Machine Learning definitions:
AI – Artificial intelligence refers to the general ability of computers to emulate human thought and perform tasks in real-world environments. 
Machine Learning – Machine learning aims to teach a machine how to perform a specific task and provide accurate results by identifying patterns.
The Finance Department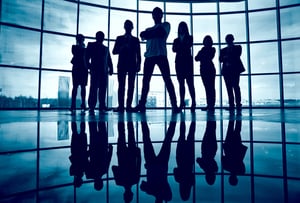 Finance Leaders don't want to be behind the curve. They want to be in the know at all times across all departments. They want their teams to be highly productive with technology and automation stepping in to take away the tedious, monotonous activities.
The Finance Team wants proactive data to be sent their way. They want to use technology to present emerging opportunities and risks to them on topics that they may not ever had on their radar.
I'll bring in Machine Learning at this point, where machines can be taught to carry out a specific task and provide accurate results based on identifying patterns. Running a business with an "always on", "ready to report at any moment", strategy is what most finance leaders aspire to. However, this is only valuable if the data is accurate to begin with. Machine learning can be hugely beneficial in spotting anomalies and inconsistencies within the data based on previous patterns.
The Whole Business
But it doesn't stop there. The scope for using AI across the business is enormous. It will present accurate, real-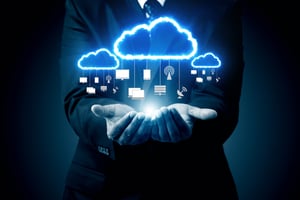 time data, at any point. So, cloud is key. I've mentioned data accuracy and detection of anomalies, but it goes much deeper into complete process automation, security monitoring, seamless integrations between different applications and flexible workspaces and user interfaces that adapt based on user activity and preferences.
The Value of Data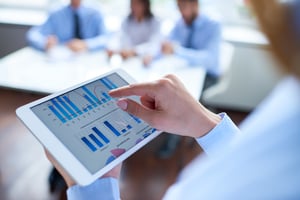 Many organisations struggle with data analytics as in they don't have any or they have but they are not using it in a meaningful way. Some organisations are highly advanced in this area and are tapping into a wealth of data to help understand their opportunities and risks. I think it would be fair to say, however that the vast majority of businesses don't have these visual insights to help guide them along the right strategic path.
Guesswork, fingers in the air and spreadsheets will just not cut it. Competitors are banging on doors to let them in, to let them do business with your customers. The power of your data should not be underestimated. It just needs to be harnessed and leveraged to help plot your strategic direction as well as managing the day-to-day with a critical eye.
---
Sage Intacct
I'm going to explore 4 key areas where Sage Intacct delivers AI benefits to its users:
1. General Ledger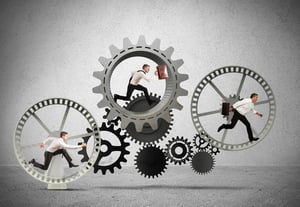 The concept of having a continuous close means that the data in your GL is open for business at any time of the day or night. The GL is the heart of your financial system and being able to tap into your data at this level means that you know exactly what's going on. Powered by AI and automation, the intelligent GL allows you to post and report transactions immediately, share financials securely with specific people and reduces the reliance to manipulate data externally.
Manual data entry is reduced while accuracy is improved, just by simplifying and automating core tasks within your finance department and beyond.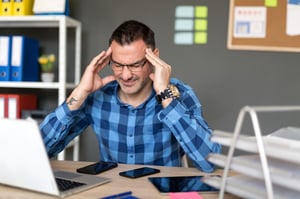 2. Detection of Anomalies
With manual data processing comes mistakes, despite all the best intentions in the world. They are so-called "Human Errors". So, what if AI gave us a helping hand to stop us in our tracks should it detect something out of the ordinary?
Sage Intacct's GL Outlier Detection is magic. It leverages the power of AI to scan thousands of transactions in minutes. It will pick up any discrepancies and will flag any transactions that need to be reviewed. The GL Outlier Detection has built-in machine learning capabilities, so it grows to understand your business and its patterns. The system can be set up with parameters to set to tell the system what transactions qualify as an outlier.
The GL Outlier Detection is critical, not just as a time saver but for flagging serious anomalies such as fraudulent activities.
3. A Picture Paints a Thousand Words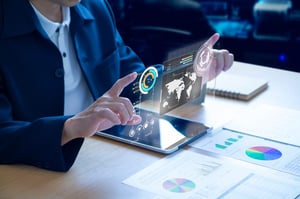 Nice, easy to see, graphical data representations that sit on your dashboard, leave the humble spreadsheet for dust. You may ask… Couldn't you just "pretty up" your spreadsheets to give the same result? No and this is key. It's not just about the pictures, it's about the collation of the data to deliver those nice graphs and charts. How long would it take to compile vast amounts of data and then start to analyse trends, patterns and correlations using spreadsheets? This obviously depends on your spreadsheet skills, but clearly it will need time and effort to get this information.
Sage Intacct has an Interactive Visual Explorer, which builds visual data representations of your data. In seconds, you can have comparative data, showing trends, patterns and correlations. You have in the region of 200 pre-built visuals, plus you can build your own.
Here is a very simple example of what can be achieved. Let's say you want to view your actual revenue, month by month. Using Sage Intacct's Interactive Visual Explorer, you will get a prediction of next month's revenue based on the analysis of past data and patterns. This is just a simplistic example, but my intention here is to get you thinking about the potential power of this tool.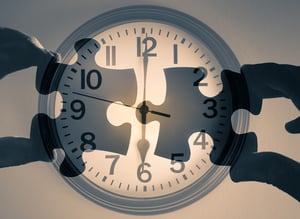 4. Time Capture
This is a real game-changer for organisations that rely on capturing timesheets for projects or for other reasons. With Sage Intelligent Time, the experience for users will be slick and efficient and for the Finance Team, the entire process will be visual and seamless. Billing delays will be confined to the history books, month end closing will just happen, teams will be freed up from monotonous and laborious tasks and the entire system will become much more efficient.
I've focused on these four topics, but there is still so much more to discuss including AP Automation and Contract Renewals. I'll look forward to writing on these topics later this summer, so stay tuned.