The digital age has revolutionised the way businesses operate, but it isn't always easy to know which type of software can be used to improve efficiency and performance. As an accountant or consultant, you may find yourself in a position where you notice your clients would benefit from upgrading their current accounting applications to something more advanced. However, you might not know what modern software to recommend.
Sage accounting software can benefit businesses of all sizes and it's worth exploring in more detail, regardless of who your client is, the size of their business or what industry they operate in. Our teams at Envisage and Pimbrook are working together once again to provide advisory services to accountants and consultants so they can match their clients with the best Sage solutions, helping them to overcome the challenges they're currently facing.
Below we have explored Sage software solutions in more detail and touched on the importance of choosing the right Sage partner to guide you towards the best products for your clients.
An Overview of Sage 50, Sage 200 and Sage Intacct
The Sage product range caters to businesses of various sizes, industries and complexities. While Sage 50 is an ideal fit for small businesses, Sage 200 is often better suited to medium-sized businesses. On the other hand, Sage Intacct is the go-to choice for advanced financial management and accounting needs.
There is always a next step within the Sage product portfolio too. So, clients can start small and move up the range as they scale up and expand their operations. Here is an overview of the Sage software offerings:
Sage 50
Sage 50 is the ideal product for smaller businesses, giving a complete view of finances and inventory. It includes financial management tools, such as invoicing, billing and inventory management, and can simplify day-to-day operations for accounts departments. With a user-friendly interface, Sage 50 software is also ideal for businesses with in-house bookkeepers or accountants who need to simplify basic processes such as invoicing and financial management along with more complex business accounting tasks. The financial reporting and forecasting capabilities can be tailored to business-specific needs, and will support cash flow management too.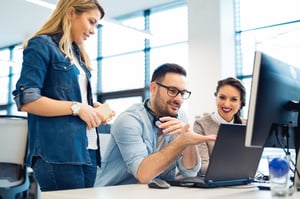 Sage 200 suits growing, medium-sized businesses and there are two options to choose from; Sage 200 Standard or Sage 200 Professional. This solution can support various business processes and help to manage both customers and suppliers. With detailed reporting and analytics, it has the capability to handle more complex financial structures, and Sage 200 software can be integrated with a host of integrated applications. It's ideal for driving efficiencies through automation and can simplify day-to-day operations.
For businesses that need a scalable solution, Sage 200 is an excellent choice. It can support more users, transactions, internal departments and warehouses, and can be tailor-made to meet specific needs. 

Sage Intacct
Sage Intacct is the latest cloud-based Sage accounting software. It's a powerful financial management solution that's suited to medium to large organisations. Sage Intacct provides real-time financial and operational insights, and has impressive functionality. With multi-entity and multi-currency support, it's ideal for businesses operating both globally and locally. Although it offers best-in-class accounting functionality, it has a simple and modern interface making it straightforward to use and can streamline manual processes.
This solution is perfect for organisations that are looking for a modern and agile solution to help accelerate their growth. Sage Intacct is trusted by financial professionals from a range of industries to drive their successes.
The Importance of Choosing the Right Sage Partner
Choosing the right Sage product for a client's unique needs is just the first step. To truly harness the power of Sage software, it's crucial to find the best partner. A Sage Partner can help turn complex scenarios into simple solutions.
 
Sage Software Knowledge – An experienced Sage partner will have the skills and knowledge to recommend the right software to transform day-to-day operations. They can support you in your conversations with clients and ensure you're making the best suggestions. They will stay up-to-date with the world of software, so you don't have to.


Customised Implementation – Every business is unique and a credible partner will ensure that a Sage solution is tailored to your client's specific needs. They offer efficient and hassle-free implementation services to remove the stress associated with introducing new software. Regardless of how big the project may be, it will be handled by an expert team and support will be provided every step of the way.


Software Training – To maximise the benefits of any Sage software, the accounting team needs to know how to use it effectively. A good partner will provide comprehensive training sessions to your clients and their employees, answering any questions to ensure they're making the most of the available functionalities.
Ongoing Support – A dependable Sage Partner won't just assist with the initial setup but they will provide ongoing support, ensuring smooth operations and timely updates. They can make using Sage software solutions an enjoyable experience and will be on hand to help whenever may be required. They can provide advice as a business grows too, ensuring their software remains suitable for their everyday needs.
Searching for a Sage Partner in Ireland?
Ultimately, Sage offers a spectrum of products that are designed to meet diverse business needs. By understanding the basics about each product and partnering with a reputable Sage Partner, accountants and consultants can equip their clients with the tools they need for success. Should you require any guidance in selecting the best Sage solutions for your clients, our team at Envisage and our partner Pimbrook is here to assist you.
Envisage and Pimbrook have worked in collaboration for several years to ensure that clients' are accurately matched to the right Sage products. Our expert Sage consultants work with like-minded accountants and consultants to achieve the common goal of delivering the best possible solutions for their clients. You can rely on both Envisage and Pimbrook to deliver a high-quality project, and ensure that your clients have a positive experience throughout.
---
Webinar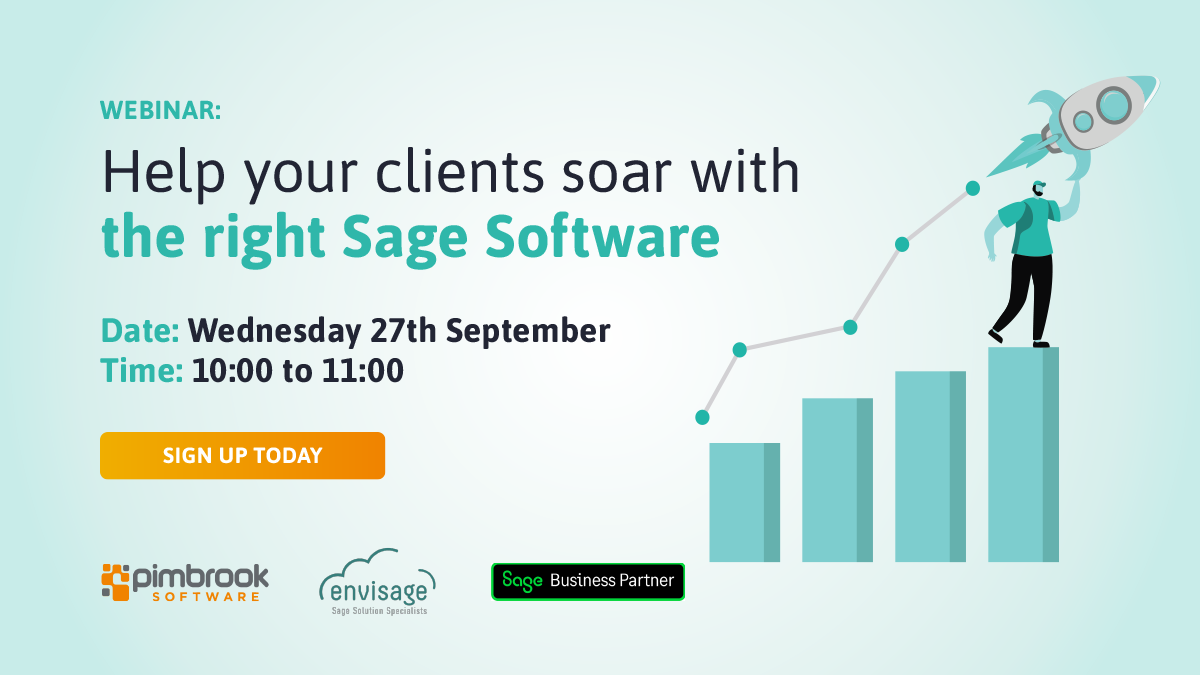 On this interactive panel-style webinar, you'll learn:
Advice and Best Practices for Advising Clients on Finance/ERP systems
Use Case Scenarios
The Distinguishing Features of the Sage Product Range